The City of Fogdown
Skull and Four Bones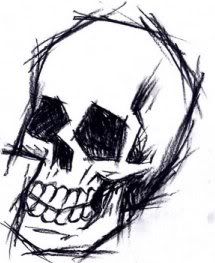 Skull and Four Bones
The Skull and Four Bones is located just northeast of the docks in the Upper Docks, at the corner of an entrance to an alleyway. The building is a simple wooden three-story structure, dark and worn with age. The floors above the first are private quarters, although their windows have long been boarded up. The face of the tavern is fairly bare, except for several clouded windows, and a worn sign of four crudely drawn skulls and the words: Skull and Four Bones.
Bartender: A stout short haired human with black mutts and a dirty apron.
Clientele: Mostly sailors, dockworkers and other gruff under shaved humaniods. The very occasional Grey Knight. Several monsterious races can be found at tables – orcs, bugbears, the occasional drow or troll.
Lodgings:
Menu:
Breakfast: Blood pudding, Duck eggs, Chicken eggs, Strawberries, Sunflower loaf (cost 1sp)
Lunch: Tuna sweetbreads, Duck eggs, Shrieker fish, Blackberries (cost 2sp)
Supper: Shark steak, Peas, Corn, Flatbread, Plum pudding (cost 2sp)
Snack: Sharp cheese, Blackberries, Millet (cost 1sp)